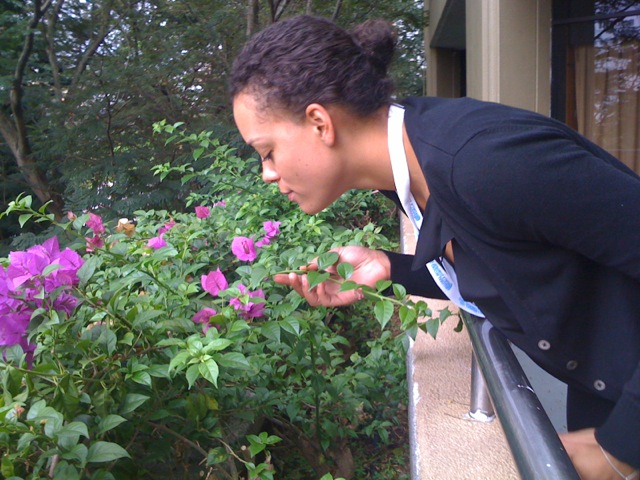 I just stumbled across an old friend from Uni online, who commented on a Facebook post saying that "we have lost the awareness to be excited by the little things"... Ever since I left my office job, I realized that while I'm doing what I really love, time slows down. I have an awesome session with a client and the hour seems much longer (I think for them too, depending on what we're doing). No but in a positive sense I cherish moments much more.  Before, I obviously also had really great days at the office, but the simple setting which was an office that forced me to be at my desk at certain times of the day and dictated that I was to have lunch around 12-2pm made me really look forward to 6pm and the freedom that came with it.
I tried to bring food to the office to not have to rely on food chains because ultimately in a 5 day week I would have at least one, twice. I'm not good at leaving things on my plate, so the places dictated how much I was eating... Now I take my time to prepare breakfast and some of the results you see on here. I enjoy eating it, I go workout, by the time I come back I really look forward to preparing a nice lunch. And I cook most evenings. There was never really time for that before.
Even though I work physically and mentally harder getting Chitta off the ground, I run around, I work out with my clients and I try to keep up with my own exercise routine, I feel less tired than I often felt after a whole day at the desk. My anxiety levels are lower even though every new client feels like going on a first date, my hair and skin are healthier and my digestion... well, you know :)
My friend's comment was on an article about how we consume a lot these days and I must admit as a budding entrepreneur I consume much less these days. And interestingly I'm happier.
This NY Times article also weighs in on how we have become a society of consumers and how the author scaled back which - you guessed it - made him happy.
How does all this relate to what I'm doing?
I once met a client who told me she was working out six times a week, she had changed trainers a few times, she did her own cardio but still she said "I don't run faster than some New Yorkers walk".
In my trainings, I try to bring as much versatility to each session as I can. Often I switch up exercises after only a few sets or combine them and I try to squeeze the maximum result out of each proposed exercise. And I am seeing peoples' results. My pregnant ladies felt energized after sessions albeit challenged, other people have lost weight and others were able to increase their strength, flexibility, coordination, etc. All of them - if I had them do their very first session again today - would do it without breaking a sweat and hardly being out of breath.
These results make me incredibly happy! And they show that by tickling my clients with these 1-3 hours per week, which is easily incorporated into their busy schedules, we are making amazing progress in a relatively short time. Think of their muscles being excited too by the diverse, rapidly changing movement and because they are happy, they interact better, within (intramuscular coordination) and between each other (intermuscular coordination). It all creates a well oiled machine. Moreover, because the results stick, this new regimen becomes sustainable: it's fun to see yourself transform.
I strongly believe in breaking the loop of living to work, rewarding ourselves by consuming more, buying more, eating more and ultimately feeling obliged to exercise more.
I dare you to work to LIVE, then the work itself becomes rewarding, consuming becomes a luxury and eating is a part of a delicious routine that creates balance in our body... a strong body that loves to be tickled regularly.
xxR
PS: Every now and then, stop and smell the flowers...